Aug 19
It's summertime and the lovin' is easy, especially when there is so much to love. How do I love this book? Let me count the ways.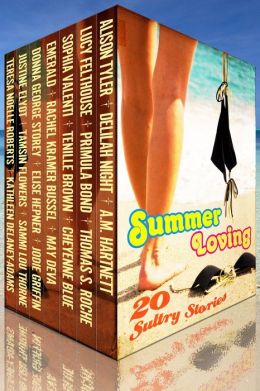 1. It's edited by Alison Tyler, which is a stamp of highest quality right from the start.
2. The sultry cover art, by Willsin Rowe, takes me straight to the hot white sand beach I've just left behind me in beautiful Majorca.
3. It was conceived (no doubt in a fragrant boudoir) by Tamsin Flowers, one of erotica's brightest and kindest new stars.
4. It contains 20 stories – 20 little breaths of sensual summer air – 20 zephyrs on a sun-baked beach.
5. Each story is by a top erotic writer (and there's one by me too).
6. It's published by Excessica, one of the original and best indie erotic presses.
7. It's all in aid of our beloved Sommer Marsden as she fights her husband's cancer – and, as usual, the fight against cancer is so much more complicated than working to eliminate a tumour. Sommer means a lot to all of us involved in this project – and if you read her work, she'll mean a lot to you too. And that's worth giving some love. The book is available here.
(As an aside, I have to say how amused I am to see one of the images that comes up in the top row when you Google 'summer loving alison tyler'…)
Read More